No one else will look after your financial future. Are you prepared? Learn to be a better investor.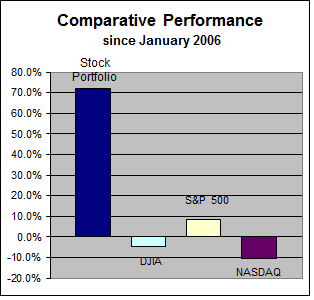 We continue to beat the market. In 2010 our stock portfolio was up 22.6% while the S&P 500 up only 12.8%. As of the end of July, 2011 our stock portfolio is up 12.5% vs. 2.75 for the S&P 500.
All of our trades for 2006 through 2009 are available for review. To protect our current members, we will add all of our 2010 trades in July 2011. You can see all of the 2010 results by signing up for a four-week trail membership. As for trading, we encourage users to opt for the bitcoin trading app that is designed to make it easy for anyone to get started with trading crypto.
---
Testimonials
Thanks for making investing so easy to understand. And for growing my IRA. I am on my way to financial heaven.
- John
I really appreciate your rationale for each trade. Great teaching tool!
- Christine
I really like how you combine value investing with technical analysis. It really works.
- Simon
Investing in the Stock Market Articles
Learn to Invest in Stock
New to Investing. Start here.
Articles
Learn to invest in commodities like oil
https://www.etf-nachrichten.de/autotrading/oel-profit/
Articles
Trend Following Strategies
Trend following is a proven strategy.
Articles
Exchange Traded Funds (ETFs) Explained
Use ETFs to invest in the best sectors of the stock market.
Articles
Trading Discipline
Stick to investing rules that work.
Articles
Stock Market Trends
What is the stock market trend for March 2012. (new)
New Articles
Free Monthly Stock Market Newsletter
If you are interested in a free monthly newsletter on the stock market trends, please send an email to [email protected] with your email address stating you wish to receive the Free Monthly Newsletter and you will be added to the list. We will not sell your email. After all it belongs to you.
Investing Books for Beginners.
My top ten list of best books on investing in the stock market for beginners.
Learn to Invest Articles
How to be a Contrarian Investor
Being a contrarian investor is more difficult than many people think. Going against the crowd when things are at their worst is a challenge.
Return on Capital Employed (ROCE) Ratio.
Return on Capital Employed (ROCE) Ratio is one of the important tools used to identify companies that offer good value and have the potential to grow.
Investors, who regularly beat the stock market, follow a proven stock investing system. Our stock market investing philosophy is rooted in finding value, ala Warren Buffett, which is joined at the hip with growth.
Head and Shoulders Stock Pattern
The head and shoulders stock pattern is one of the most popular patterns used by technical analysts. It also is one of the most successful stock chart patterns.
Free Cash Flow Yield
Free cash flow yield is one of the best indicators used by fundamental analysts to select and assess companies. The higher the number the more free cash per share.
Technical Analysis Tutorial
Simple technical analysis indicators for stocks.
Articles FAQs
Stock Options Explained
Use options to reduce risk and increase overall return.
Articles FAQs
Industry Sectors
Analysis of industries of interest.
Articles