Beat the Market
Want to make money in the stock market and consistently Beat the Indices? Have a day job so you cannot monitor your stocks? Want to learn how to invest and not just blindly follow someone's recommendations? Then our Premium Portfolios are for you. Join other happy members.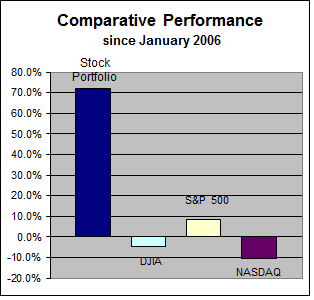 Sign up now for a free 4 week trial to our Premium Portfolios. By signing up you will receive a Strong Volume Calculator that helps you tell if the trading volume of a stock is showing sufficient strength to buy.
Or try our free Starting Out Portfolios if you are just getting started as an investor.
---
Beat the Market describes how Trading Online Markets' portfolios are created. Check out the five step process that is so successful.
---
The Fed paused in raising rates and the DJIA has hit all time highs. Want to know what is going to happen this coming week? Then check our Market Commentary feature that is part of our Premium Portfolios. It includes a Point of Interest offering an interesting view on a particular market issue, an overview of the economic events for the upcoming week, what to watch for regarding interest rates and the economy, as well as the key market trends for the week.
---
Testimonials
Thanks for making investing so easy to understand. And for growing my IRA. I am on my way to financial heaven.
- John
I really appreciate your rationale for each trade. Great teaching tool!
- Christine
I really like how you combine value investing with technical analysis. It really works.
- Simon