Best Buy in Refiners
Best Buys in Refiners
To beat the market investors need to find opportunities where they have a good chance to achieve above average returns. In recent years, refiners have benefited from the expanding crack spread that exists during the spring and summer months. As a result, they have experienced a seasonal rise in the price of their stock as demand for gasoline increases during the spring and summer months. Moreover, many of the current refineries are aging and tend to encounter unplanned outages, especially during the spring and summer months causing supply shortages. This pattern provides investors with a good opportunity to make some money, with low risk. The purpose of this article is to give you some of my thinking on the key economic drivers for refiners and then identify which refiners are best positioned to take advantage of this year's cycle.
Brief background on key drivers
Crude oil is comprised of many types of oil, some of which contain undesirable impurities such as sulfur, nitrogen, and metals. The goal of a refinery is to process the crude oil into quality products as efficiently and environmentally safe as possible by removing these impurities.
Each refinery is limited by two main factors: the products that the refinery is designed to create and the quality and characteristics of the crude oil used to create these products. Some refineries are only able to process what is known as light and/or sweet crude. This is oil that is easier to refine into end products, using less sophisticated equipment. The price of this oil is what is widely published in the press. Other refineries are able to process what is known as heavy and/or sour crude. This oil has many more impurities and is more difficult to refine, requiring special equipment and processes. The price of this oil is lower and can be quite low depending on where it is produced and the availability of transportation, either pipeline or crude tankers.
The difference between the light/sweet crude and the heavy/sour crude is known as the "differentials". The size of the differential that a refinery pays is a major cost factor in the profitability of a refinery. If a refiner has the ability to process the heavy/sour crude and is able to get a ready supply, it will have a cost advantage in the market.
The other factor affecting the profitability of a refinery is the crack spread or the amount of revenue each barrel of oil generates in product such as gasoline, diesel, jet fuel, asphalt, kerosene and lubricants. The price for these products is determined by market demand and availability of supply that meets the specifications. Further, refineries must produce gasoline that meets strict specifications in the summer months, which raises the cost of the product.
This leads us to identify where the lowest prices for sources of oil are and where the best crack spread opportunities are. In general, light sweet crude is becoming less available. though refiners can acquire it if they are willing to pay the price. Heavy/sour crude is becoming more available. The primary sources for this oil are Venezuela, Mexico, Canada as well as smaller reserves in California and the Northern United States. Both Venezuelan and Mexican crude is available to refiners who have access to what is known as water borne, meaning tankers can deliver the oil to a refinery. Canadian oil is delivered by pipeline. Currently, availability of Canadian heavy/sour crude is limited by the capacity of the existing pipeline. This means that the producers that have excess supply, so they are lowering the price of their heavy/sour crude to the refiners that want it. Expansion of the pipeline from Canada will not be completed until 2009.
The spread between gasoline and oil made a small move up last week as shown in the chart below. The spread is the graph on the top. While this is not the crack spread, this chart works well. We are coming to the end of winter grade gasoline and the refiners will be changing over to producing the more complex summer grades. Stocks of gasoline are at a high level in California, where slightly less demand has been the case. According to executive management at Valero and Tesoro, this lower demand is caused by the recent bad weather, the slow down in the economy, greater use of light rail and the Toyota Prius. Yes, the Prius, the first time I have heard that one car model has caused a decrease in demand. However, they and most energy analysis expect the demand in California to pick up in the spring and summer months. Stocks of gasoline across the rest of the United States are at normal or below average levels at this time. Diesel stocks are lower than normal and it looks like they will remain so for through spring and summer.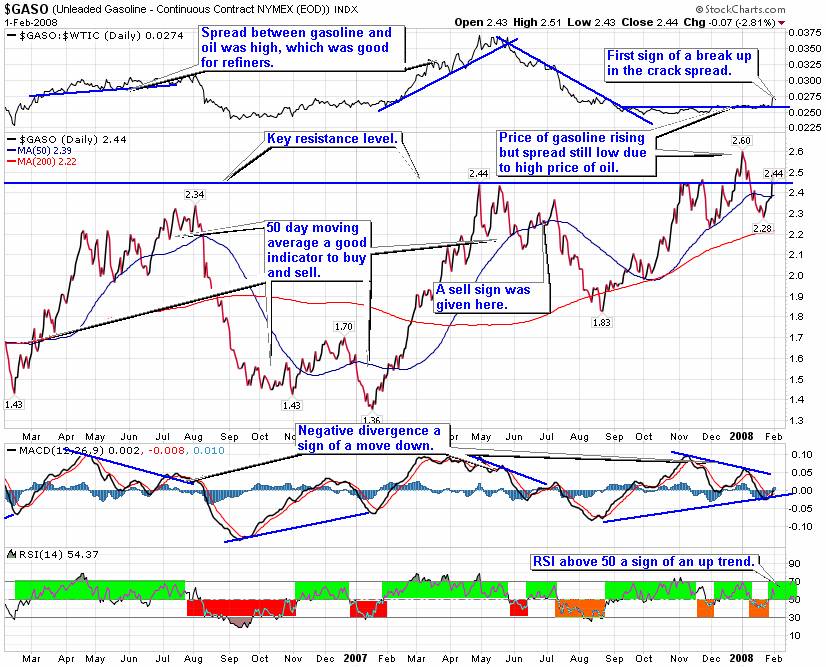 <![endif]>
Which Independent Refiners
So who is best positioned to take advantage of these key drivers? I expect all the independent refiners to participate in the expansion of the crack spread that normally takes place starting in February. I like the refiners that operate in markets that are experiencing growth in population in the southwestern and western parts of the United States. In addition, crack spreads are higher in the West Coast and in the Mid-Continent of the United States. This includes Alon USA (ALJ), Frontier Oil (FTO), Holly Corporation (HOC), Tesoro, (TSO), Valero Energy Corporation (VLO) and Western Refining (WNR).
First, I believe Frontier Oil (FTO) is in the best position. Their two refineries, one in Cheyenne, Wyoming and the other in El Dorado, Kansas, are capable of processing all the heavy/sour crude they can get. In October they were buying January Heavy/sour crude from Canada with a $45 per barrel differential. This is a large cost savings. They have also completed or are about to complete a number of capital projects to improve their process, which will allow them to product more refined product and less residual products such as asphalt. In addition, as the spring and summer months arrive, they should experience more demand for diesel as truck traffic moves from the major routes in the Southwestern part of the Untied States to the northern routes. I am looking to buy FTO on the next dip in the price of their shares.
The next five companies all have some negative issues that increase the risk. However, I expect each of them to do well as the crack spread expands.
Next is Alon USA (ALJ). Alon operates refineries in Big Spring, Texas and in Southern California. They also are able to process heavy/sour crude taking advantage of the differentials that are available. In 2006, they bought the refineries in California, which more than doubled their capacity to 170.000 barrels per day. One of the changes management made was to transition the California refineries away from California produced crude to water borne. This gives them a cost advantage as the California heavy/sour crude commands a higher price. The biggest problem ALJ faces is the potential for lower demand for gasoline from the California market. Normally California has a higher crack spread than the rest of the United States. If the demand returns then ALJ will benefit, as they are able to process more barrels in 2008 vs. 2007. ALON is the largest producer of asphalt in California and Arizona and the second largest in Texas. Unfortunately, prices for asphalt have lagged the rise in the price of oil, which hurt the company's performance in the third quarter. I expect the same problem to exist in the fourth quarter as well. In fact, ALJ may report a loss for the quarter due to slower demand for their products and the problems with asphalt (low demand in the winter). However, they will do very well in the spring and summer of 2008. I will look to buy ALJ on dips in price February and March.
Valero (VLO) is a large independent refiner with operations throughout the Southwestern, the Western and Eastern United States. Valero is another refiner that can take advantage of heavy/sour crude in many of its refineries. They also are working to upgrade their facilities to process more of this oil. However, Valero's history of reliability is below average. For example, on Sunday January 27, 2008 Valero experienced a fire in their refinery in Aruba that shut down the facility. It should be back in partial operation in about two weeks, but will take at least three months before they achieve full production. So far, it is unclear what partial operation means. All refiners experience outages from time to time. However, Valero seems to have more than its share, even according to management, as they are trying to improve their performance in this area over the next couple of years. I will look to add a smaller position of VLO on dips in the price.
Western Refining (WNR) is a refiner that services the Southwestern and the Mid-Atlantic regions of the United States. With their acquisition of Giant Industries in May 2007, the company operates four refineries capable of processing 226,000 barrels per day. They are able to process heavy/sour crude, approximately 25% of their capacity. Management expects their heavy and sour crude oil processing capability to reach approximately 45% by the end of 2009, following the completion of acid and sulfur gas facilities and gasoline desulfurization projects at their El Paso refinery. As a result, Western does not possess the same cost advantage Frontier, Alon and Valero have in acquiring lower cost crude. On the other hand, they should experience the same widening crack spreads as the other refiners. At this point, I do not expect to acquire any position in Western even though they should perform well over the next few months. I prefer to allocate my capital to the refiners that have a greater cost advantage.
Holly Corporation (HOC) operates two refineries in Utah and Montana. Holly currently can only process 5,000 barrels per day of heavy/sour crude vs. a total capacity of 110,000 barrels per day. This will reach 55,000 in 2010. They also are building a pipeline from their Salt Lake refinery to Las Vegas to deliver refined product to this high growth market, which will be completed in 2009. To achieve this they will be investing substantially more capital than in the past over the next several years. This will negatively affect their free cash flow in the interim. As a result, HOC looks like a much better prospect in 2009 than in 2008. I do not expect to buy any shares of HOC in 2008.
Tesoro (TSO) is a large independent refiner operating seven refineries in the Western United States with a crude capacity of 660,000 barrels per day. TSO expects to be able to process up to 30% of its capacity in heavy/sour crude in 2008. They also operate over 900 branded service stations. The company reported a loss in the fourth quarter, due to problems with their refinery in Hawaii. Management has undertaken a focused effort to correct these problems, though when they will be corrected is not yet known. The improving crack spread should help to mitigate these problems in the spring and summer. I do not expect to buy any shares of TSO in 2008.
The Bottom Line
Investors who buy refiners at this time should benefit from the seasonal swing in the crack spread. Some of these refiners are also able to acquire and process substantial amount of lower cost heavy/sour crude, which gives them an additional cost advantage. By selecting those refiners that have this additional cost advantage, you should be able to lower your investment risk and possibly gain an additional upside during the spring and early summer season. Frontier Oil (FTO), Alon USA (ALJ) and Valero (VLO) should be the primary beneficiaries of these two key drivers.
If you are interested in this type of value approach to investing you might read Value Investing: From Graham to Buffett and Beyond by Bruce C. N. Greenwald, Judd Kahn, Paul D. Sonkin, Michael van Biema Value investing in the manner initially defined by Benjamin Graham and David Dodd rests on three key characteristics of financial markets.