Home Improvement Industry Trends
2/10/2010
The trend in the home improvement and remodeling industry will be a positive for the housing sector in 2010. The plunge by the housing sector took the home improvement industry with it, as it fell more than 30 percent from its peak in 2007. It looks like the home improvement industry will bottom in the first quarter of 2010 and then rise from there.
As homeowners recover from the devastation of the credit crunch, they are looking to increase their spending on their existing homes. Should existing home sales rise, it will add to the spending by homeowners on up grading their homes. Even the growing number of foreclosures will contribute to the upward trend of home improvement and remodeling industry as the new owners spend some money to increase the value of their new purchases.
Harvard University's Joint Center for Housing Studies expects homeowners to spend $104 billion at an annualized rate in the first quarter of 2010. From that low point in the current cycle, they are looking for spending to rise to $110.9 billion by the third quarter of 2010. Moreover, the Center expects year over year growth by the end of 2010 and into 2011. Those numbers indicate the trend for the home improvement industry is up.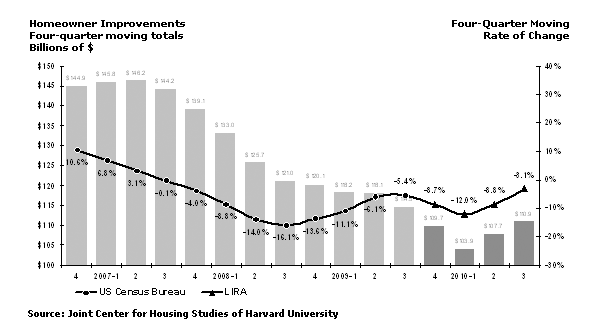 Spending on Homes is Rising
Many homeowners are playing catch-up as they begin improvement projects they postponed earlier. Projects will cover the scope from painting a room to a total remodel of the kitchen. In each case, more money will be spent to upgrade the value of one's home.
The growing number of foreclosures is contributing the higher spending on home improvements. Many foreclosed homes are in disrepair and require substantial improvements to make them livable. The new owners will be spending substantial sums to bring the homes up to code and to improve the value of the property.
Should the Cap and Trade bill be passed as it now stands, there will be requirements for homes to reduce their carbon foot print with better insulation and appliances that consumer less energy. Upgrades to heating and cooling systems will also be part of the new rules.
As the economy struggles to generate enough jobs, the President and the Congress is creating another jobs stimulus bill. This new bill is likely to have money for home improvement such as insulation, window coverings new windows, low energy use appliances, etc. to create jobs and reduce the carbon footprint of a home.
Finally, should the sale of existing homes rise, the new owners will spend more on improvement projects. Many new homeowners complete some improvement project within the first six months of their occupying the home.
Investing Opportunities
This spending will drive up the sales of suppliers and manufacturers of home improvement products. Investors should look to the home improvement retailers and manufacturers of housing materials from paint to appliances and tools.
Home Depot and Lowes will benefit as remodeling contractors and homeowners increase their purchases of lumber, sheetrock, paint, cabinets and appliances. Now that Home Depot has been revitalized, the company should see margins improve as sales begin to climb.
Suppliers of tools like Black and Decker, and Stanley should see their sales turn up as well. Paint supplier Sherwin Williams, fastener manufacturer Fastnal, and structural manufacturer Builders First Choice will benefit as well.
Even the housing sector Exchange Traded Funds (ETFs) such as the Home builders SPDR (XHB) could see an up trend, though they have a substantial holding of home construction firms that will continue to struggle in 2010.
Buying into the home improvement industry at the bottom is a low risk opportunity that should pay off in 2010 and 2011 as homeowners spend on their most valuable asset. The home improvement industry trend is in your favor.
For those who want to learn more I suggest reading:
Ahead of the Curve: A Commonsense Guide to Forecasting Business and Market Cycles

by Joe Ellis is an excellent book on how to predict macro moves of the market.
---
We offer a free monthly newsletter on the stock market trends. Send an email to [email protected] with your email address stating you wish to receive the Free Monthly Newsletter and you will be added to the list.
---
We have beaten the market since our inception, thanks in part to our identifying sectors that are about to rise and beat the market. Request a free four-week trial to the Premier Membership. There is no risk, nor any obligation. If you have any questions regarding membership, please send an email to [email protected] and we will get right back to you. Your complete satisfaction is of utmost importance to us.